Hi stampers! It's been a long time since I blogged or have done much of anything but unpack, get my back done for the 54th time and injure myself. I am on 2 weeks of a right drop wrist and yes, you guessed it, I'm right-handed. When I had the left drop wrist, it was less than a week and I could use my fingers to type. This one is bad and there is absolutely not one sign of improvement. I've seen the neurosurgeon. No guarantees with surgery, which would be in 3 different places on my arm. A drop wrist comes from a radial nerve injury and you are not immune from it. I would like to do a video, put my 8-year-old Windows PC finally died with 6 unedited videos on it, so I'm going to take it in and a least grab the data off of it. I didn't get a blue screen of death, but the black one. It will barely start up and then just quit so I'm pretty sure its nothing serious. If it's going to take me almost 3 years to learn how to insert a watermark on my pictures with this Mac, I will never learn iMovie Maker. The books don't speak my language. Sacramento is now too far away to attend any classes. I should have done it when I was in the Bay Area. I've been thinking about a lot of places to put down permanent roots. It's just me now and my 26-year marriage was shattered, along with the lives of my kids, and they are spread out all over the place. It wasn't supposed to happen like this and it makes me so very sad.
Speaking of Apple, I ordered my new iPhone 6 Plus and it should be here any day now! I'm super excited about that. I even got the special printer that can be ordered too. It holds photo paper and I can print my pictures from my phone and get them right into my Project Life. Did you know that you can download a new Project Life app to your phone? It's very cool and only $2.99. I got mine today. I haven't played with it yet but I'm sure I'm going to love it and so will you!
I made this card by just using markers and colored directly on the stamp. I really miss coloring images. It was so relaxing to me. There's not too much I can do. I suppose I will start using my "builder" 2 and 3-step stamping sets, but it's now the same; however, practicing on how to fully utilize them never hurts and maybe I will even come up with some new techniques using just regular stamps. We shall see.
Please keep me in your prayers. I'm getting really tired of this. Even taking a shower requires a 2-hour nap since I literally exhaust my arm and hand trying to wash my hair. Razor blades are pretty dangerous to me too. I had a terrible scare in there yesterday morning almost going through the glass door. I got banged up pretty good. I really didn't need that. I'd also really like to find the remotes to the front room TV to watch TV there rather in my room. It always makes me feel like I'm sick when I lay in bed and watch TV during the day. It was just too easy and too logical for the movers to put the remotes in the drawer of the TV stand.
I hope you like this very simple card. Thank you so much for stopping by to see me today and God bless you! I have about 3 million projects going on right now, all organized in their respective baskets without a protocol of what I was thinking, except for 2, so I might as well clean everything up. One was a very lovely fall project using products from the Stampin' Up! Holiday Catalog. Hopefully it will come back to me. I have a lot more cards to show you so be sure to stop back by and visit me! Hugs and blessings to you!

The Book of Esther. One of my favorites. God is not mentioned one time but you see him everywhere.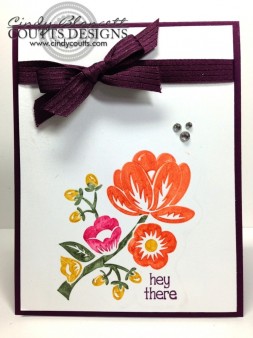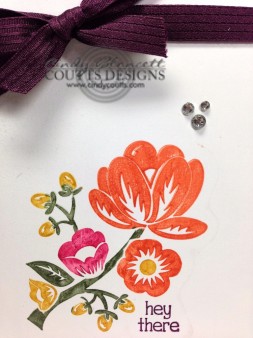 Shop Cindy B Designs Boutique. You will love the experience! Simply click on the shopping bag above and enter a world of beauty hand-crafted for you.
Need Stampin' Up! products? Just click on the button above to shop with me 24/7 from the comfort of your own home!

Share on Facebook

{ 0 comments }