Hello there my friends. I thought that I would make a card for the My Favorite Things Wednesday Sketch Challenge (MFTWSC243). This is a great clean and simple sketch so I decided to just git er done. I've been using some patterned paper lately, which is something I haven't done for a long time, but you have got to check out two new designer series papers from Stampin' Up! of Season of Cheer and Home for Christmas that make my vintage-loving heart all warm and fuzzy. Let's not forget the vellum and bling. It's all very good. These papers are in the 2015 Holiday Catalog that will be available to you on September 1 that you can purchase directly from my website. The papers are extremely realistic and are honestly the most beautiful papers I've seen in a very long time. The stamp sets, dies and embellishments are divine. I'm very impressed with this catalog. The papers are so lovely that you can cut out images to use as your focal point on any project. I'm going to have some pretty awesome Christmas tags, cards and wrapping paper this year, that's for sure! I'm going to be doing a lot of canning in the fall and baking for my neighbors and friends, then I get to make them all pretty. Would you like to take a look at the new papers?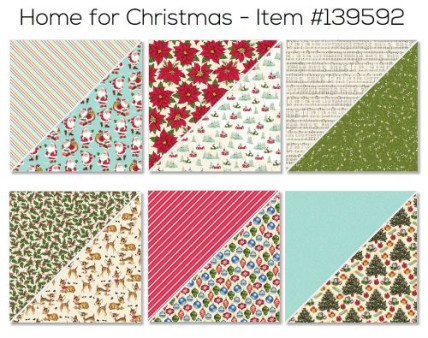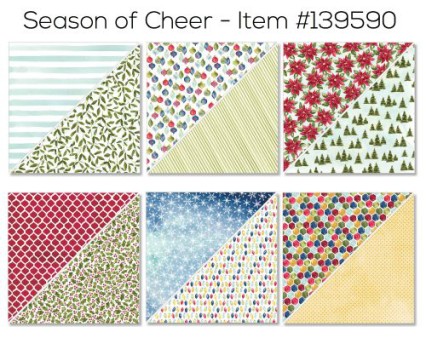 Are these awesome designer series papers or what?! I do have my product shares ready and cut. I just need to put the information together for you. That's another thing that I start and then trip over something in the craft room floor and start on that. But seriously, I need to get this up for you. Be sure to subscribe to my newsletter to keep current. I also need to make my packaging all pretty for you too! On my right sidebars, you can always check out the Stampin' Up! promotions, Tuesday specials and any other information you are interested in. All you have to do is click on the buttons I have for you.
Also in the new Stampin' Up! products, there is a December Daily Kit in the catalog and I'm actually going to do one this year since I have so much to be grateful for. I journal daily anyway and have been since I was pregnant with my oldest son, who is now 29. I will continue my personal journal and use the December Daily for memories.
I would like to thank you so much for taking your valuable time to stop by and visit me today. I have wonderful readers and I'm grateful for all of you, your support and your friendship.
Below is my very funky and fun Halloween card. I used a paint swatch behind my spooky house that is actually patterned paper. I thought that it would look great with my frame. I hope that you like it. I used Grout Gray for the lampposts and the black shimmer card stock for the spooky house. I should have taken a picture of the inside, but Spooky House is a set of stand-alone Die-Namics. There is also a tree in this set and I die-cut that with Grout Gray and stamped a small Happy Halloween sentiment with orange ink on the inside. For my envelope. I used Primitive Pumpkins on the left side and a sentiment stamped in Black Licorice Hybrid Ink at the bottom. It's such an adorable card. You should be able to see part of the envelope in the pictures.
All products used are My Favorite Things unless otherwise stated.
Stop back by tomorrow and I will share with you my insanely popular Napa Valley Salad recipe that I made up that has gone viral in my hood and with my relatives, who have no problem showing up with large Rubbermaid containers asking me to make them a salad. I love every second of it.
For my videos, I did purchase Camtasia several months ago, but it is not compatible with my Mac. I have a service call into them now and I will be calling them back as soon as I post this. I really miss making videos for you and the Napa Valley Salad would be a great video to share with you.
God bless you and make today and every day count.
I apologize for the pictures but it was that time of the day; however, I think the hues from the sun look pretty cool.

John 3:16.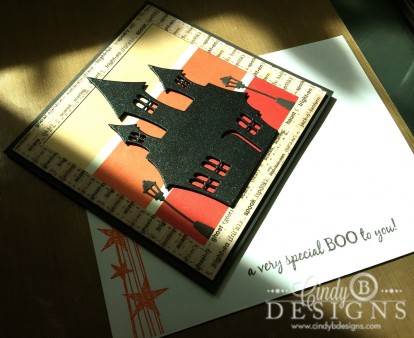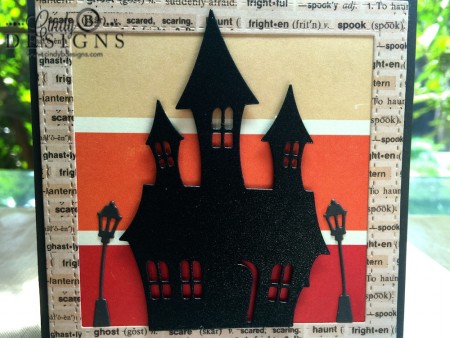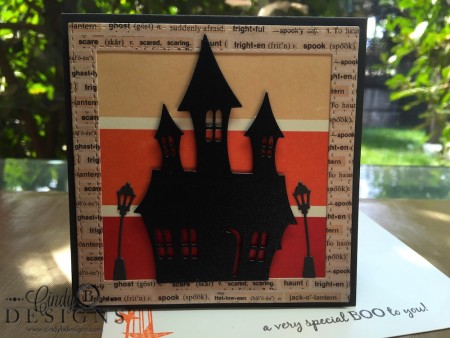 Stamps:
Primitive Pumpkin
Card Stock: Steel Gray, Black Shimmer (Papertrey Ink)
Patterned Paper: Frightful (My Mind's Eye)
Die-Cuts: Spooky House Die-Namics?
Tools: Big Shot (Stampin' Up!)
Techniques: Die-cutting, inlaid die-cutting
Card Size: 4-1/4 square

Shop Cindy B Designs Boutique. You will love the experience! Simply click on the shopping bag above and enter a world of beauty hand-crafted for you.
Need Stampin' Up! products? Just click on the button above to shop with me 24/7 from the comfort of your own home!

Share on Facebook

{ 0 comments }