Hey stampers! Today I have a card and a video that I made for my Big Princess Artiste Fashionista. Mackenzie just turned 21 and has been an amazing artist all of her life. Her art has won prizes in contests when she was in school. She can do anything. I posted a picture that she drew a few days ago and took it while it was hanging on the wall and I had this terrible glare as I'm still taking iPhone pictures. I need to go to Best Buy or something. Anyhow, I took the picture off the wall and took quite a few pictures of her drawing she made for my daddy. She loves San Francisco and it was my dad who showed her the beauty of The City. She spent hours and hours drawing this incredibly detailed picture of San Francisco at night with a view from the Golden Gate Bridge. Her art and that lousy picture I took caught the eye of a stamp company owner who wants Mackenzie to come on as an illustrator! You all know how this industry is and to have a stamp company contact you out of the blue like that is unheard of!
I just lost about an hour of writing for this post and I really could scream right now. I had so much information to share with you. I am just devastated that this is happening to me quite often. I need to check my settings for an auto save. WordPress has changed a lot and not for the better either! I looked high and low for it too. Very frustrating and disappointing. I had so much written from my heart to my family and to you.
Grab some lunch while I share with you my daughter's painting. Enjoy!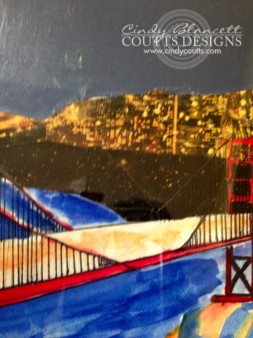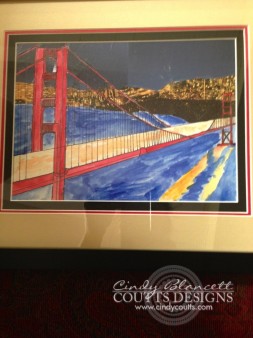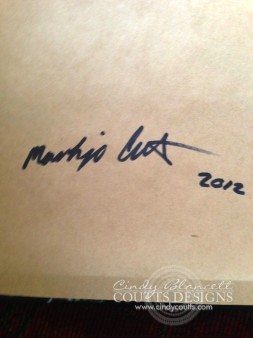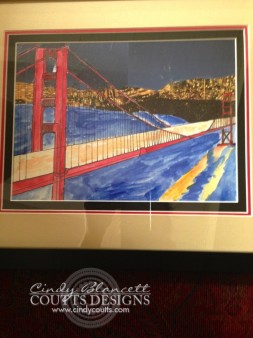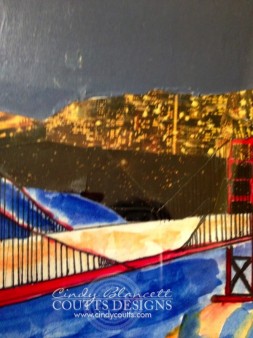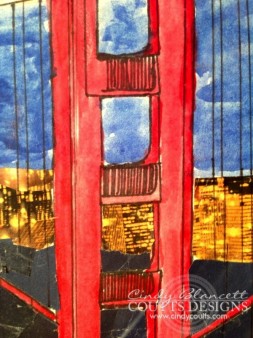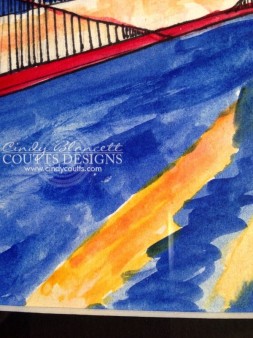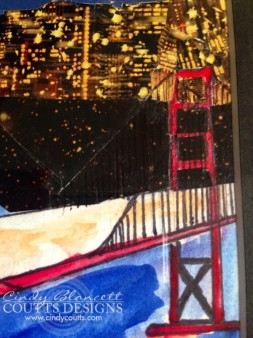 These pictures are absolutely - I can't even think of a word! She is brilliant! I see Coit Tower in there and the Transamerica Building. These pictures are stunning. Notice the cityscape and how she drew that? It's exact as to how San Francisco sits on the Pacific Ocean. I love San Francisco too and would love to take a trip down there of just her and I and spend a weekend doing whatever we want. Before the kids became adults, I used to take one of them on a mom and me trip once a year and boy did we ever have the best and funny times! I can't wait to scrapbook everything and get my precious pictures out of it and start to organize them.
For my card, I am going to do a Part 2 and Part 3. As I was making the card below, I realized just how much versatility this one stamp set has and I want to utilize the different techniques and looks I can get from this stamp set of Friendly Flowers by Papertrey Ink with coordinating die-cuts. This stamp set coordinates with one that Dawn McVey designed years ago and the die-cut for that stamp set will cut out the larger images perfectly.
This card turned out to be a more of how to make your own background and one sheet wonder stamping. Remember how fun it is to make your own background before the surge of patterned paper? That is true stamping is creating. I am personally trying to shy away from products like that as I really, as in desperate really, need to purge. You name it, I have it, and it will be up on eBay. I will keep you posted.
In the meantime, again, in this video I'm explaining a few things to Mackenzie, but she really needs to come up here and spend some time with me.
Thank you so much for stopping by to see me today. Thank you for praying for me and my family. I appreciate you. Enjoy the video and the card!

1 Corinthians 13: 4-8.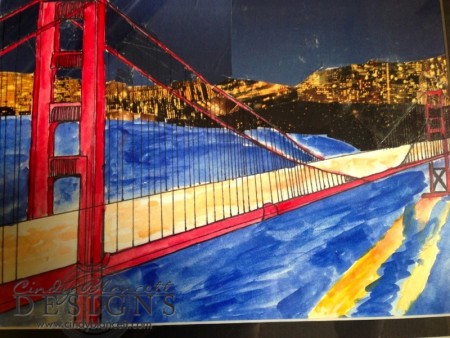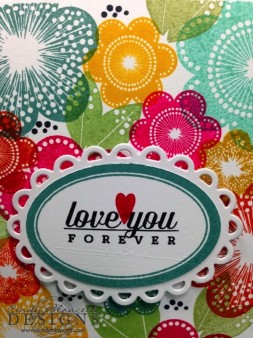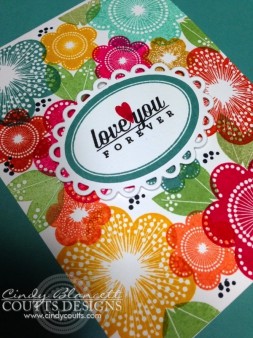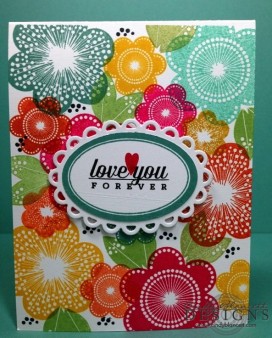 Have a very blessed day! Thank you for watching.

Shop Cindy B Designs Boutique. You will love the experience! Simply click on the shopping bag above and enter a world of beauty hand-crafted for you.
Need Stampin' Up! products? Just click on the button above to shop with me 24/7 from the comfort of your own home!

Share on Facebook

{ 0 comments }