Hi. It's me again. I made another card for the My Favorite Things Wednesday Sketch Challenge 217 (MFTWSC217). I just realized that I've been calling it "Club" rather than "Challenge," but I could have sworn it was "Club" before. Oh well. I'm absolutely crazy obsessed with Lisa Johnson's new Spring Tulips stamp set and Die-Namics. Lisa has been a friend of mine for a long time, she is just the sweetest woman, and she is an awesome illustrator and I'm so glad she is working with My Favorite Things now. She has a great clean style with clean lines and they are so easy to work with. You can either stamp them solid or stamp the outline so that you can color. I love to color so I'm always on the lookout for fun images that I can color. It's very relaxing to me and is a total stress-buster. I color as often as possible. I stamp images for fun and for no reason just to color.
I also have another video for you. I just need to edit it, so be sure to come back and check it out. I'm just doing what I have to do to keep the time reasonable. I also still need to find a good video editing software for dummies like me too that is user friendly.
Today, my creativity is in flight and I just don't know what got a hold of me with this sketch. I haven't felt this energized about creating for years now! For this card, I still used rainbow colors. I have a thing for butterflies too.
Are you ready to see my beautiful butterflies card now? I'm sure you are, so here it is! I've also completed the inside for you too!
All products used are My Favorite Things unless otherwise specified.
Thank you so very much for stopping by to visit me again today and God bless you.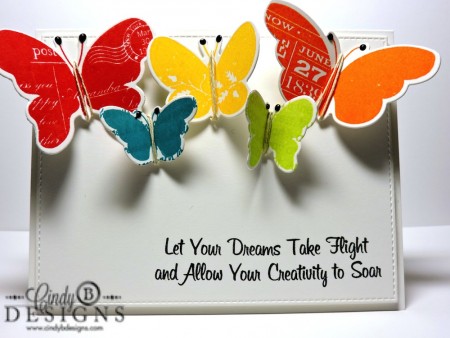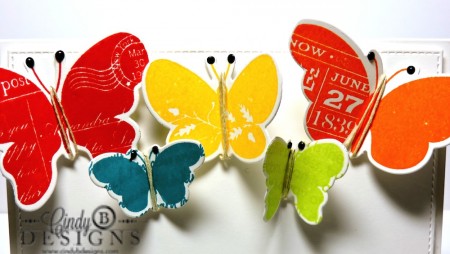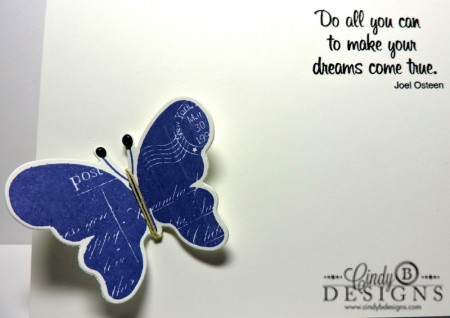 Stamps:
Art Expressions Text, Blissful Butterflies, Winged Beauties
Card Stock: Smooth White
Ink: Daffodil, Lavender Fields, Limelight, Orange Zest, Red Hot, Tropical Teal Premium Dye Ink; Black Licorice Hybrid Ink
Twine: Hemp Cord (Hemptique – can be purchased at the MFT Store)
Enamel: Black Enamel Accents (Inkssentials)
Tools: Big Shot (Stampin' Up!)
Technique: Die-cutting
Card Size: 5-1/2 x 4-1/4

Shop Cindy B Designs Boutique. You will love the experience! Simply click on the shopping bag above and enter a world of beauty hand-crafted for you.
Need Stampin' Up! products? Just click on the button above to shop with me 24/7 from the comfort of your own home!

Share on Facebook

{ 1 comment }