Hi there friends! I made a card! I would have had it done yesterday for the Papertrey Ink Blog Hop but I couldn't find my dies – when actually they were right in front of my face. Isn't that the way it always works? I didn't have them alphabetized all the way after having them all dumped upside down in a box and fall out of their pouches. I was not happy. It's been quite the miserable moving experience. I've lived all over the country and I have never seen such disrespect for my personal belongings and lack of care. My pictures were not even wrapped. The owner is coming over tomorrow as I've made it quite clear that I expect a full refund from him or else we will be letting a judge decide the fate – it was that bad. I'm almost afraid to open up boxes anymore. I have a box cutter in one back pocket and my iPhone in the other to take pictures. I even had to buy more space on my phone! I'm still hunting for my Stampin' Up! products and even my catalog! I really want to find these items so I can start making my cards again for the Paper Craft Crew Challenge on Wednesday.
I have a ton of Thank You cards to send to people. There are so many friends, old and new, that I would like to thank for getting me through selling the "death condo," the purchase of my current home, and everything in between. I am so happy in my new house. It's amazing. My cousin lives right around the corner from me. It's so quiet here. I'm still unpacking, but am working very diligently to have everything unpacked and organized by July 31. I don't think I'm going to make it. It's not for lack of trying. August is sneaking up fast and to me, this entire year has really flown by so fast!
Back to my house. I just love it. It's everything I've wanted since my Kentucky mansion. I have granite everywhere, even in the laundry room around the sink. The storage is awesome. I have a 3-car garage. And finally, that open concept I've always wanted. The previous owners left a 60" TV above the fireplace for me. Score! They were fabulous people to work with. I had an awful buyer and that entire experience was miserable. The Friday before closing, I almost told her to take a hike. She was seriously that bad. I've had friends come over and paint for me. I'm the second owner of the house and it's 8 years old. The previous owners let my friend come in to paint my studio before I closed so that I could get this place organized. My great room, dining room and foyer are now painted too. I've decided on the colors of the laundry room and guest bath, which has dual vanities, very cool. I've also decided on my bedroom and master suite and yes, that baby is a suite and sweet. It has one of those deep soaking garden tubs with jets! My back loves it! Separate shower and water closet. I will not complain about the great walk-in closet either with shelves. It was Kelly who found this house for me. She had been looking for me for a year. I had no idea just how much the death condo was affecting me until I made the offer on this house. I made it on the spot and the sellers accepted so the house never really went on the market. All of this has been a God thing. I felt so much better immediately in every way possible. It was awful living at the death condo. Both of my parents died there within 16 months of each other; one in each room. I slept in one and crafted in the other, like in the exact same place where my dad took his last breath and died and I'm supposed to feel creative? Uh, no. It was a chore and I hated it and didn't enjoy it at all, and this went on for a year.
I feel alive again here. I can't wait until she's finished cosmetically and I'm unpacked and organized. Everybody says that I'm a different person and even look different. The death condo was small at 1410 sf and my new home is 400 sf larger, which is really just the perfect size for me. I told Kelly I'm not moving for only 400 sf. Then the day before it went on the market, she brought me over here and let me tell you, 10 foot ceilings and the layout make all the difference in the world. It's a split floor plan with the master on one side of the house and my craft room, guest bath and guest bedroom on the other side of the house. I can actually close the door on craft stuff and have a life and not have to look at it. I'm sure you professional crafters know what I mean. It's like always having work in your face. I was so tired of that. I just wanted to live somewhere with no evidence of craft stuff!
It feels so good to have a home of my own. Being single in this day and age is a bit scary, well, a lot scary, and it's security to me.
Packing has been tough on me physically as well. Oh the joys of having systemic lupus erythematosus and rheumatoid arthritis.
So how about my card? What do you think? It's not me. It was fun experimenting with different background stamps and colors for a Mixed Media effect and using stamps in ways that they are not designed to be used. I used 8 different stamp sets on this card! 8! That's a record for me. Of course, I had to use My Favorite Things Blueprints on my card. I don't make a card without one. Some of my favorite stamp companies have sent me some of their new releases and I have 3 months of stuff sitting here all over the floor and must start having some fun with them. Getting the craft room organized is the worst. I've already taken up half of the closet in the guest bedroom and desperately need to make a trip to IKEA. I must leave the other half open for guests. My dad's beautiful antiques are going in the guest room. I have a lot of vertical space that can be used up in the craft studio. In all honesty, I need to purge is what it really boils down to. Like a big purge, like an 80% purge, just like I did with my clothes. I got it down to 4 wardrobe boxes and this included my clothes that are folded, handbags, shoes and accessories. Not bad.
Having Kelly around the corner is the best. She's the best. She's also very high strung, high drama, goes a million mph and there's always something going on. I've set boundaries and we respect each other's boundaries. We balance out each other very well, no judging and lots of laughing. Kelly will ruminate on something, I get tired of hearing it, tell her how to fix it and that I don't want to hear about it again until it's fixed. Sometimes I will fix things for her that I can do in one 3-minute phone call whereas it would take her a month and a lot of stress, which I'm so not into. It may sound enabling, but I tell her to pay attention to me and what I'm saying, and she's doing much better in that department and gaining a lot more self-confidence. Kelly's husband is the one who has the traumatic brain injury that you've heard me talk about before and she's still reeling from that.
Bella is so happy to have her own backyard to play in. She just runs back and forth and has her little puppy play dates over here. Her friend LuLu, another doxy, stayed with us for 4 days and became quite the little diva herself, so it was time for her to go back to Kelly's. Sleeping with 2 doxies who are both bed hogs and both jealous and wanting attention at the same time was quite the chore. It's different than holding 2 of my babies when they were little with one in each arm reading a book to them, but one of them always had to turn the page for me. My hands were full. One dog slept under the sheets and the other on top. They are in the laundry now.
Okay, now for my card. I used Beautiful Butterflies on this card and then added in the Beautiful Butterflies Layers. I added a little bit of my Wink of Stella pen on the butterflies.
I would like to thank all of you too for hanging in there with me during my absence, your cards to me, phone calls, texts, emails, all of it. I really appreciate each and every one of my readers. I'm going to turn organizing my craft room into an online class and then just move straight into the holidays, so be sure to come back and visit me for news on that.
Please excuse my pictures. I can't find my camera, so these are iPhone pictures taken outside on my patio furniture.
Most of all, I thank my Lord and Savior Jesus for giving me a home.
Thank you so much for stopping by today to visit me and God bless you!

Philippians 4:12.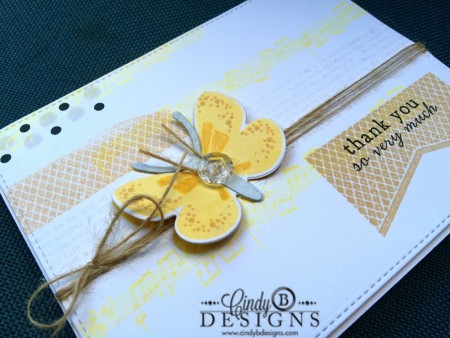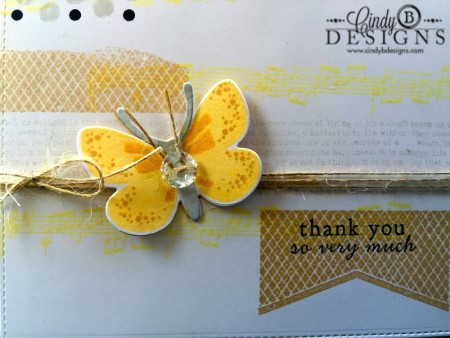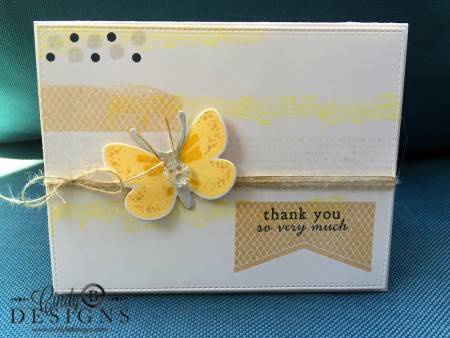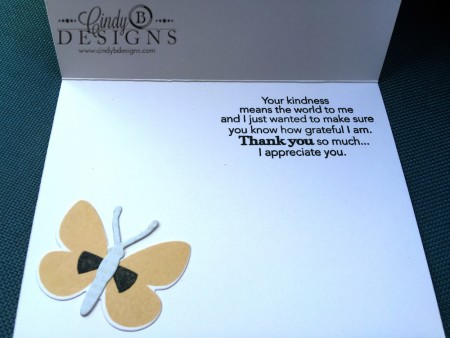 All products used are by Papertrey Ink unless otherwise stated.
Stamps:
Background Basics: Sheet Music, Text Style II, Beautiful Butterflies, Beautiful Butterflies Layers, Center Style: Masculine, Fillable Frames Additions 2, Good Times, Tucked In: Thank You
Card Stock: Vintage Cream
Ink: Fine Linen, Harvest Gold, Lemon Tart, Soft Stone, True Black
Twine: Rustic Jute
Button: Vintage Faceted (Stampin' Up!)
Die-Cuts: Beautiful Butterflies, Beautiful Butterflies Layers, Blueprints 15 Die-Namics (My Favorite Things)?
Tools: Big Shot (Sizzix), MISTI
Card Size: 5-1/2 x 4-1/4
Challenge/Event: Papertrey Ink July Blog Hop

Shop Cindy B Designs Boutique. You will love the experience! Simply click on the shopping bag above and enter a world of beauty hand-crafted for you.
Need Stampin' Up! products? Just click on the button above to shop with me 24/7 from the comfort of your own home!

Share on Facebook

{ 1 comment }