Hello there my friends. I'm going to be offline for a few weeks and hope to see you back mid-July.
I sold the "death condo," which is a huge relief. I was very unhappy here. While I'm extremely happy with this chapter of my life being over, I did have quite the difficult buyer. Today is my birthday and I was also planning on closing at my new house; however, the IRS is behind on verifying taxes, although they didn't have a problem taking what I owed them out of my account immediately, so that's verification, right? Both my sellers and I have run into this problem which has delayed our escrow closing until July 7. Just pray I close on July 7 or before. So now I have 4 storage units in Chico; one of them being temperature controlled, that I found at the last second, that all of my craft junk can go into.
Today is moving day (and my 52nd birthday, ugh) and it's going to be a long one. I'm not as prepared as I usually would be since a truck rear-ended me last night. My back is screaming and my head hurts even worse. But, this also leaves me without a place to stay so I'm going to head up to see my kids for a few weeks and have some fun with them.
I have decided to stay in Chico. I'm a Bay Area gal at heart, but my beloved City is only a few hours a way. The housing prices down there are just viral now that the market has changed, again. I got a wonderful deal on my new house and I will be sure to show you pics along the way as I decorate to make it mine. It's a lovely home and I felt at peace the second I walked in. It's perfect for me and for my youngest son, who might be moving in with me in about 6 weeks to start attending college at Chico State. Please pray about that. It is so important for me to be able to spend this time with him and I would love nothing more than to be a doting mom again to my 6+foot son. He's amazing. I'm really looking forward to what's ahead of me house-wise. I can afford it and won't be house poor. It's up against the beautiful foothills on a preserve so I have land on 2 sides of me with cows! There's a gentle breeze and it's about 10 degrees cooler than Chico since I'm on the outskirts. We've been having very dry 110+ degree weather lately and this will be a great welcome. My kids live in a beautiful ocean town where it's generally 70-ish or so on a good day and I'm pretty sure I'm going to freeze. I'm looking forward to the beautiful scenery and the kids showing me around. It's going to be great. Not having a home after all for 3 weeks does have its perks. My new house is literally around the corner from my cousin, who is such an instrumental part of my life. She's my best friend, has helped me make a lot of new and wonderful friends, she helps me out on bad back days and after procedures/surgeries on my back, or wherever else for that matter. There are 4 stairs in the "death condo" and I've fallen on them several times getting injured, i.e., broken toes, twisted ankles, all that "fun" stuff.
My poor Bella was chained up in the back and had no real running space and now she has her own fenced in back yard. I am moving into a wonderful community. It's only 8 years old and the sellers did not spare any expense when they built my house. the granite is already in, including the laundry room that even has it's own sink. I have a 3-car garage too. It's a split floor plan with the master being on one side with the other 2 bedrooms on the other side. The spare bath has dual vanities. It's just perfect. My new craft studio will be facing the backyard looking right at the waterfall on the pool and I will also have a beautiful guest room that will be my son's room if he chooses to finish college in Chico, and he really should – definite prayers there! It will be nice to have that room available for him. My kitchen is a bit on the dark side but that's nothing that a DIY resurfacing can't take care of so I've decided to change all of the cabinets to white to lighten and brighten up the space and add some very cool fixtures to the front. I like the long skinny pole type that is really popular right now and will remain a timeless classic. I love the hardwoods. They are just beautiful.
My new house is just the perfect place for me and I see God's hand all over this. The "death condo" sold in 2 hours at a broker's tour. I took a tremendous leap of faith with my asking price, but I knew what I had and it paid off. Every time I move, I take a bit of the house with me. With this move, daddy had put up a beautiful vintage plant hanger on the breezeway from the garage to the patio that leads into the condo. I'm taking that. I never really unpacked here to be honest and have spent the last year living a little bit out of Rubbermaids. It was very depressing. I could never find anything and it showed in my work. It was frustrating to create.
I struggled with leaving this place in that I was letting another chunk of my father go, but this was mom and dad's place, not mine. This was their forever home, not mine. I arrived to the conclusion that my dad would want me happy and he would.
I'm really looking forward into moving into my lovely new home in a couple of weeks and settling in. It's going to be a very busy summer, but you can count on me being back in full swing in the fall posting new cards and videos for you a few times a week, continuing my online card classes, more design team work and more of everything that you love at Cindy B Designs. I hope to get together with some crafty friends here and there every now and then. It's going to be hard not to color for 3+ weeks.
When I get moved in, our first journey is going to be fixing up my art studio. A trip to IKEA is definitely in order.
I'm excited for th is new chapter in my life and very unhappy at the same time as my divorce did become final on Tuesday. We are both having a hard time with it. I will be seeing him in less than a week and try to figure some stuff out. I don't know.
Thank you so much for hanging in there with me. God bless you and have a great day! I will see you back hopefully around mid-July and in the meantime, see if I can sneak just a few fun crafty items out of here!
As always, be sure to check my Stampin' Up! website that is on the left sidebar for any product specials and promotions. The new catalog just came out and I am really wanting to break out everything to play but haven't had the time to with this move looming over me and literally jumping through hoops for my lender. I should have just gone with Wells Fargo, who I usually go with. I think the process would have been much easier that what I'm currently doing. I actually do have a phone call into them and will switch if this keeps up. So many stories to tell along the way from putting the "death condo" on the market to how I found my beautiful new home. I didn't find it. My cousin actually did for me. It's 350 sf larger than where I currently live; however, 10 foot ceilings and the floor plan is everything! What a difference that makes! I was pleasantly amazed. I made an offer on the spot, the day before it was to go on the market and they accepted it. They've been just wonderful to work with, even though buyers and sellers are not supposed to talk, which is a ridiculous "rule" since they have so much information on the house that a realtor just can't know. My sellers are even leaving me that great sectional! I'm not a sectional person but it works there. I've always liked to have a cozy chair to snuggle up in and read a book, but there is a corner on this sectional that will work perfectly.
I am so happy about the garden spa with jets in the master bath. My back is going to love that. It's so therapeutic. I've always wanted to put a chandelier above any tubs we've had like that before in the past, but we've never gotten around to it. I have to many little changes I can't wait to do so that my beautiful little house has my name written all over it. I am just so excited! My patio area is just out of this world crazy awesome! It even has a little hookup for my grill that will feed the propane right into it so I don't have to worry about refilling tanks. Kelly (my cousin) and I have so many exciting plans that we've made together and it's going to be wonderful having her a half minute away. Right now, she lives 20 minutes away one-way and it's hard for her to get over here if I have something physical going on with the systemic lupus erythematosus or rheumatoid arthritis to give me a hand and now she will just be around the corner!
Oh, and I'm finally, after al of these years, getting the open concept floor plan that I've always wanted with the kitchen open to the great room! Yay! I also have the most awesome pantry ever and there's tons of inside storage! In the hallways, I have sconces on the walls and I've always wanted that too! Even the laundry room is so cool that I'm going to actually look forward to doing laundry. I even have a foyer and I love having foyers in a house. They are so inviting. There is hardwood in the main areas of the house, carpet that I actually like in the bedrooms and very stylish tile in the baths and laundry room.
I would love to show you pictures but I don't know if I should be putting that out all over the internet, but a suppose a few here and there won't hurt, so you might want to stop by every now and then.
I am so looking forward to spending time with my kids more than anything else and having some great family time. That's the best part of everything. My son was down a week or so ago and I took him to see the new house and he really liked it a lot. I had a great time with Moose. He's an awesome bass player so I got to watch him play. His birthday is in 4 days and he's definitely going to love what mom and dad got him! I just hope that I'm up there in time to spend it with him.
I am very grateful for each and every one of you. Your personal emails of support mean so much to me.
Okay, I'm signing off for now and need to get some things organized around here a little bit. I sure do wish I didn't get into that accident yesterday because I feel every single body joint, muscle, bone, you name it, today.
I've decided to share a few pics with you anyway. There's so many angles to the kitchen. Enjoy!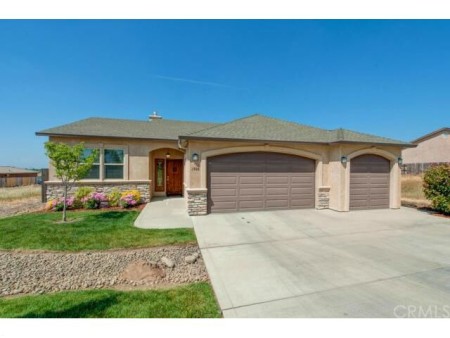 Front of house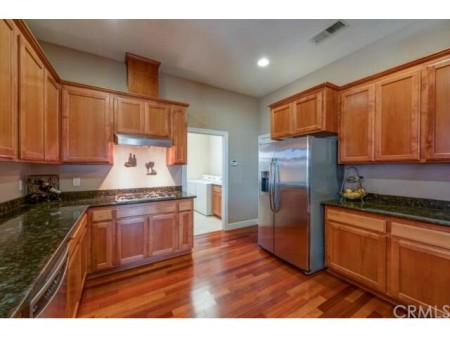 Kitchen looking into laundry room.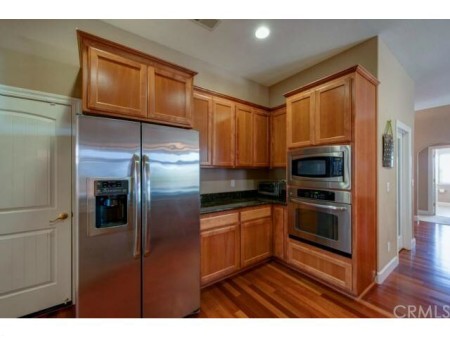 Kitchen frig/ovens; door on left goes to garage; door on right is pantry.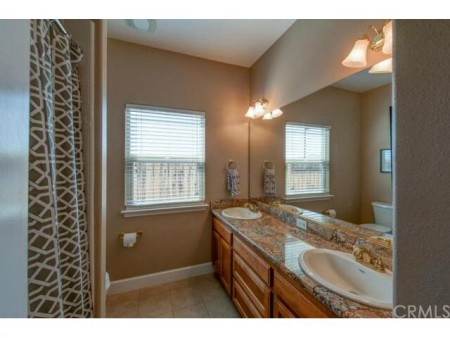 Guest bathroom.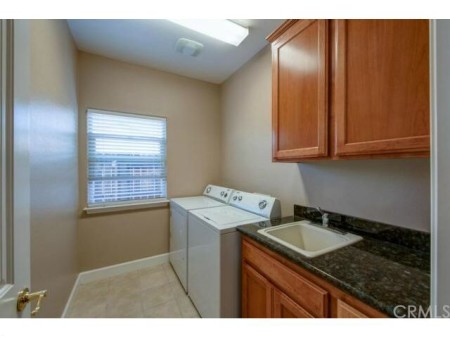 Laundry room with tile floors, sink and granite! My front loaders are going to look awesome in here!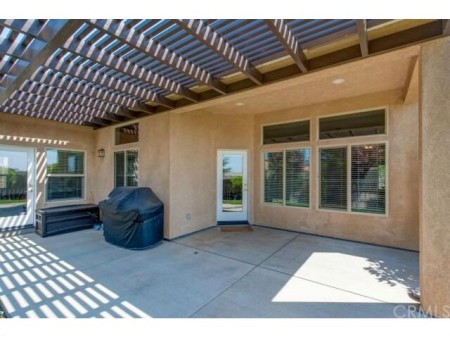 Back patio. To the left is my own window and door to the patio from the master.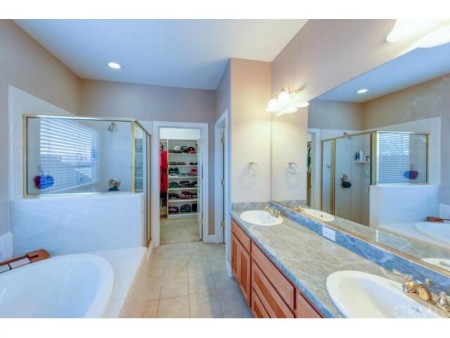 Master bath. Check out that closet!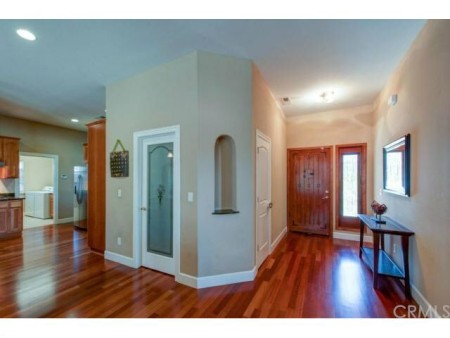 Kitchen, laundry room on left, pantry door and foyer.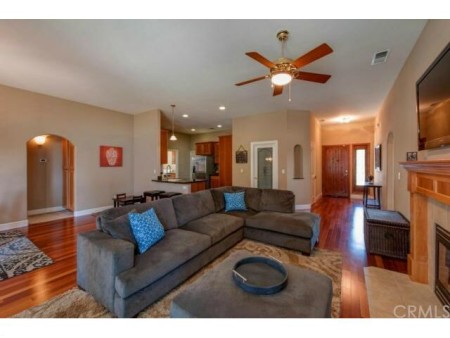 Great room with master to the left and a sconce, kitchen and pantry in back, foyer and fireplace.
As you walk into the house standing in the foyer, kitchen to the right, dining room and master.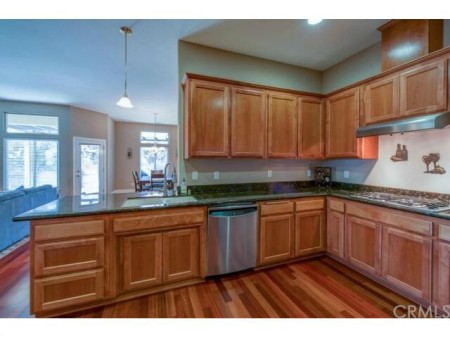 Kitchen sink and gas range looking out to the dining room and deck. Great room to the left.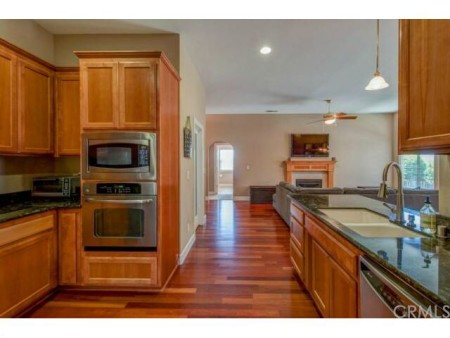 Standing in laundry room, view of kitchen, great room and hall leading to the 2 bedrooms and bath on the other side of the house.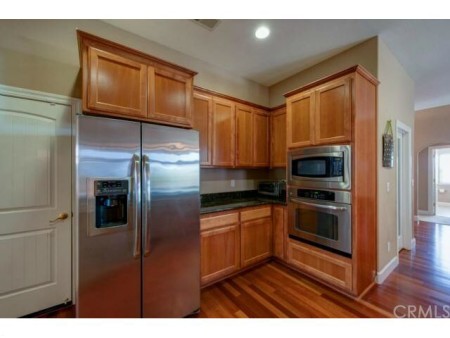 Another view of kitchen with frig, ovens and garage door to the left.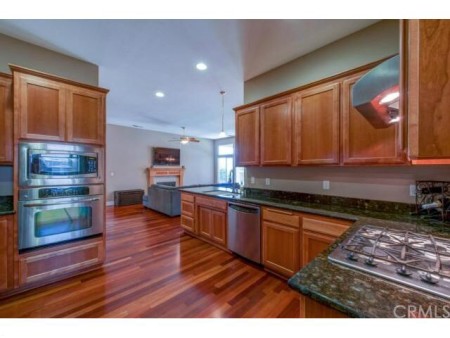 View from garage door leading into house to kitchen and great room. This will make unloading groceries a breeze! So happy to have a gas range again!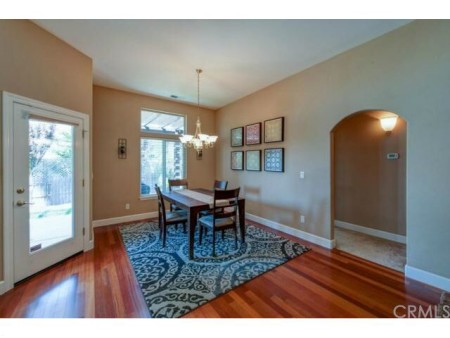 Dining area and door to outside patio. Master is through the right hall with a pretty sconce to grace the wall. The owners are also leaving the grouping of 6 pictures too!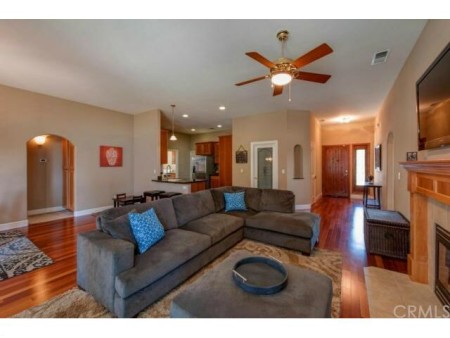 Great room with TV above fireplace. You can see the little bar seating area I have in front of the kitchen sink. I have a beautiful antique sideboard that is going to go where you see the red picture. It's a perfect fit.
There's my little tour. I hope that you enjoyed it as much as I enjoyed knowing this is my home and in 3 short weeks, I can move in. It's just perfect for me and I love it. It feels like home.


Share on Facebook

{ 2 comments }